Davie's
Metal Roof Repair - FREE Inspection & Quote
Metal roofs are widely used in Florida. Some irresistible benefits have made metal roofs a common and dependable roofing material here in Florida. The durability and high-class look of a metal roof are indeed worthy of the money you spend on its installation. Though metal roofs require minimum maintenance, in some cases, general repairs may become necessary.
Some complications may arise if your metal roofs are old or have experienced extremities of harsh natural conditions. Sometimes, the metal roof has not been installed correctly and needs to be repaired. It is, therefore, advisable that you choose your metal roofer with proper research. Some people believe in the idea that they can repair their metal roofs by themselves. This is completely wrong if you know nothing about metal roofing. 
Instead of repairing your roof, it's more probable that you may cause more damage. And if you face any issue in your roof functionality or structure, you should not wait or delay but call the metal roof expert and fix the problem instantly. This will probably prevent the condition from becoming worse. Davie Metal Roofing Company in Davie, Florida, has experienced and well-versed trainers and professionals who will affordably repair your roof and try to minimize the damages that can occur in the future. 
What indicates that your metal roof needs repairs? 
A horizontal seam is attached perpendicular to the standing seam in a metal roof system. Sometimes, there are complications in the design, such as restriction in panel length, causing the roofer to attach horizontally. These restrictions occur because it is difficult to construct a panel that measures the rafter's full length. So, based on contraction and expansion, the length of the panel is adjusted.
But the problem with horizontal seams is that they are prone to separation over time. They can cause leakage of water in hydrostatic metal roofs systems into the building. So, if you notice something like this, call us for an immediate repair.
As there is a temperature change, metal displays the property of expansion and contraction. These movements can create stress at the positions of attachments and penetrations through the roof systems. This stress will cause a breakdown of the flashings, and the roof will start leaking at the site of penetrations. Long-term repairs can be difficult as individual metal panels are connected at seams, making it difficult to disassemble.
Metals used in roof construction are steel, aluminum, iron, copper, stainless steel. All these materials are subjected to oxidation. Metals panels are provided with a coating on the top layer to prevent any kind of chemical reaction. But with time, the layer of coating can wear away, which leads to oxidation of metal panels. If they are not repaired in the correct time frame, serious issues can arise, which might affect your building's structural integrity. Metal panel oxidation at the fastener heads can make repair difficult.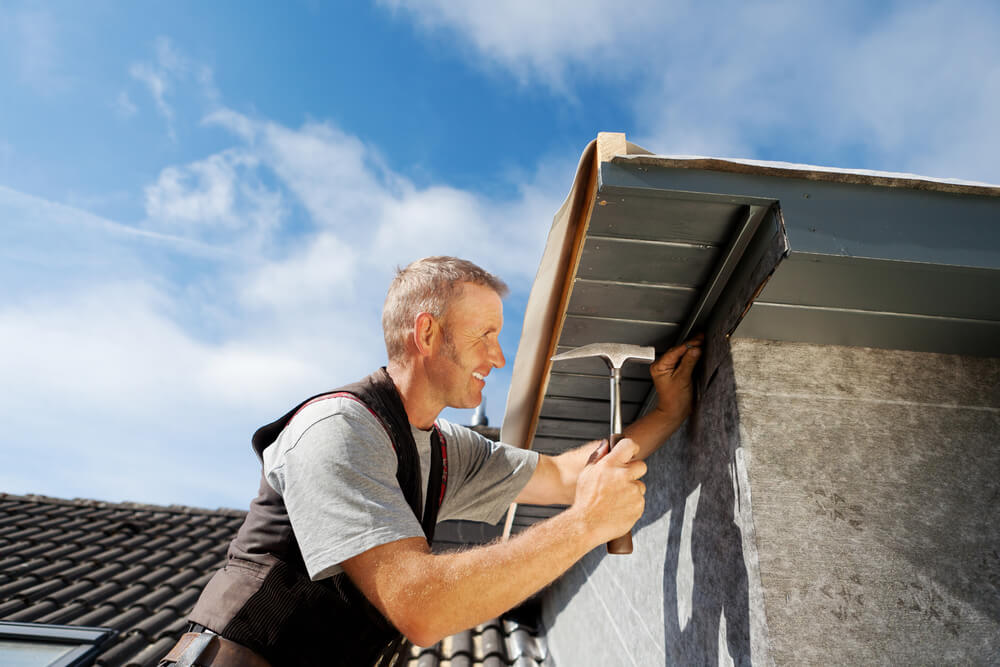 Why choose Davie Metal Roofing Company for metal roofing?
Davie Metal Roofing Company in your town of Davie, Florida, is working in the field of metal roofing for over a decade now. And working for a long time has helped us collect a lot of experience and strategic management techniques.
We have the best quality of metal roofing materials that will lead to a trouble-free metal roof experience for the user. A lot of reasons for you to choose us are as follows-
Making the right choice
You can cycle through all the benefits listed above. Once you hire us, you'll get more benefits than listed up here. You must not compromise and go for the roofer who offers the least possible price. You should, instead, come to us like others in Davie, FL.
Our services aren't meant just to provide roofing solutions but to help you get a dependable roofing system that protects you and adds style to your property. If you're convinced, call now for metal roofing services worth remembering.
Time to Replace Your Roof? We Can Help
---
Considering roofing replacement? When it comes to roofing projects, many homeowners rely on professionals to get the job done. At Davie Metal Roofing Company, our specialists stick to all the industry standards when installing metal roofing on both residential and commercial properties. Therefore, you can be sure of getting a sturdy roof on top of your house. As a result, you can get the best services from our company in the following fields;
What Locations do we Serve?
Davie Metal Roofing Company is a name you can trust and rely on. Our metal roofing services were limited in Davie, FL when we started. But with time our company has expanded and is now serving over ten locations within Florida.
It shows how reliable we are. Here are some places within Florida, where you can access our world-class metal roofing services: –
Contact now!
Davie Metal Roofing Company is the best company you can rely on. We will work responsibly and hope to provide the results you desire. To avail of the amazing benefits, you can call us and book your appointment now!