Davie's
Corrugated Metal Roof Contractors & Installers
A roof is meant to protect your house and provide resistance from fire, wind, storms, and disturbing sound to your house. It also provides your property with structural support and visual appeal. There are different types of roofs in the market. Each of them has different features and qualities. But, if you want the best option in roofing, metal roofing is perfect. Whether the metal roof is made of steel, aluminum, copper, or zinc, it would always be better than the other kind of roofs.
It is one of the most long-lasting and affordable options in the long run. As compared to traditional asphalt shingles, metal roofs always shine the brightest. We would definitely recommend you invest your money in something that is actually worth it. Don't fall for something just because it's lower in price. You may find traditional roofing alternatives way cheaper than metal roofs. But, when it comes to performance, these roofs always lack behind. They don't last long and have very high maintenance costs. 
You also have to get them repaired more often. The traditional shingle roofs also are very heavy. At the same time, metal roofs are the lightest and are highly durable. Metal roofs make your house look beautiful because of its amazing designs. It gives a new appealing look to your property.
If you have made your mind to get a metal roof installed for your home, you have made the perfect decision. There are a lot of metal roofing companies in Davie, but you should only hire the best one.
We, Davie Metal Roofing Company, are one of the most trustworthy companies in this town. That's all because of our great quality services and customer satisfaction. You can avail of a good range of services from our professionals at the most affordable prices.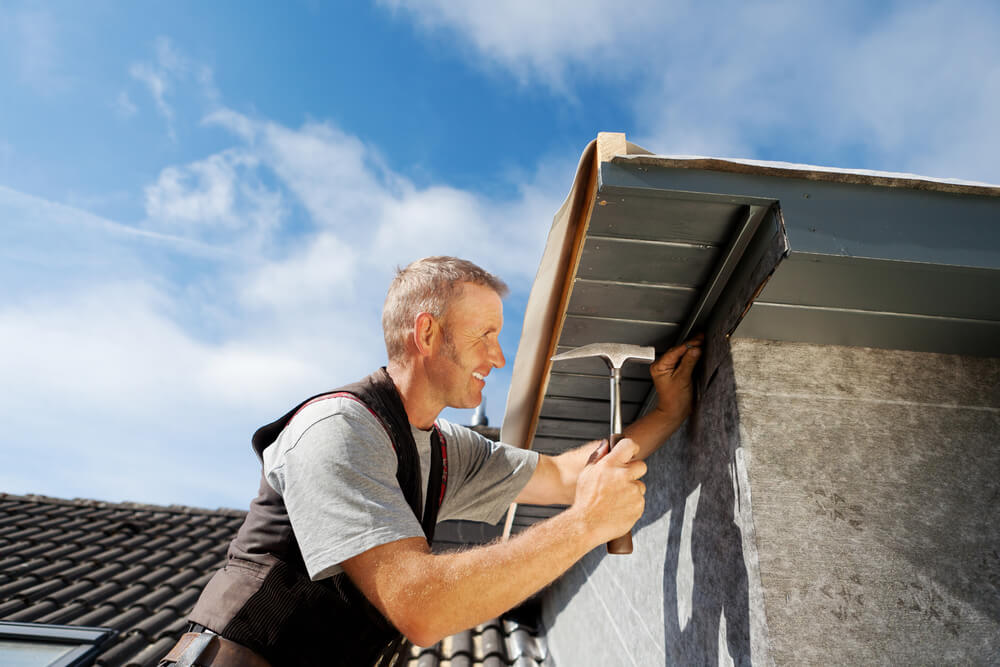 Benefits of Metal Roofing
There are many misconceptions people have about metal roofing. But these rumors are actually the advantages of metal roofs that make it better than all other roofs. Let's discuss some of them in detail: –
Corrugated Metal Roofing
If you're constructing or building a new house or planning to install a new roof, corrugated metal roofing would be perfect. It is one of the most cost-efficient metal roofing options available in the market. These roofs are seen everywhere. We, Davie Metal Roofing Company, are experts and will provide you the best quality corrugated metal roofs for your home. This is our specialty. This roofing is perfect as it is durable, long-lasting, and provides efficient protection to your home.
Corrugated metal roofs are made of metal sheets that are either corrugated or rippled. This is what makes the roof steadier and more long-lasting. The cardboard has a wavy layer of papers in between the flat layers, which provides it strength and makes it strong. Similar is the concept with a corrugated roof. The roof's wavy shape makes it steady enough to withstand all the damages that nature can cause. Whether it's rain, hail, snowstorm, or very hot weather, corrugated metal roofs will remain pretty strong.
We also provide a protective coating to the roof, increasing its resistance to rust and corrosion. Further, the metal is provided with another coating. That is paint. This provides a great look at the roof and also protects it. Their durability is incredibly enhanced because of the corrugated roof's structure. These roofs are known to last for more than five decades. Because of its shape, it doesn't really corrode or rust. This is why it lasts for such a great time.
Making the right choice
You can cycle through all the benefits listed above. Once you hire us, you'll get more benefits than listed up here. You must not compromise and go for the roofer who offers the least possible price. You should, instead, come to us like others in Davie, FL.
Our services aren't meant just to provide roofing solutions but to help you get a dependable roofing system that protects you and adds style to your property. If you're convinced, call now for metal roofing services worth remembering.
Time to Replace Your Roof? We Can Help
---
Considering roofing replacement? When it comes to roofing projects, many homeowners rely on professionals to get the job done. At Davie Metal Roofing Company, our specialists stick to all the industry standards when installing metal roofing on both residential and commercial properties. Therefore, you can be sure of getting a sturdy roof on top of your house. As a result, you can get the best services from our company in the following fields;
What Locations do we Serve?
Davie Metal Roofing Company is a name you can trust and rely on. Our metal roofing services were limited in Davie, FL when we started. But with time our company has expanded and is now serving over ten locations within Florida.
It shows how reliable we are. Here are some places within Florida, where you can access our world-class metal roofing services: –
We are the best In town!
We have experience of almost four decades. Our roofers are highly qualified and trained. We also have skilled craftsmen to design beautiful roofs for you. We make use of the best equipment for our work and are highly efficient. Our experts are highly punctual and will never keep you waiting.
Buying a metal roof for your property is a great investment. But it would be better if you have the information and knowledge about the different types of metal roofs which can be installed for your home.
Our experts will provide you every information you need so that you can make the right decision. You just need to contact us on our helpline. We assure you that you would never regret hiring us.